Voor de productie van MKL-traptredes maken we, net als die van alle MKL-roosters, gebruik van hoogwaardig bandstaal. Het productieproces verloopt analoog met die van onze standaardroosters. De vulstaven worden in de inkepingen geperst die vooraf in de draagstaven werden aangebracht, met een rooster van draag- en vulstaven tot resultaat. Vervolgens worden de geperforeerde zijplaten aangebracht en de verstevigde voorzijde, die een slijtvast en stabiel loopvlak garandeert.
As versatile components with a good price-performance ratio press-gratings can be used practically anywhere:
• walk/gang ways
• machine and service platforms
• crane and work platforms
• heavy-duty gratings
• floor coverings
• cable channels
• cladding / panels
• façade gratings
• stairways and landings
• shelving
• ventilation gratings
• sun protection elements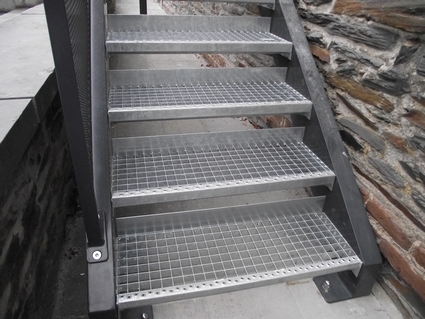 Traptreden
MKL provides you with galvanized or non-galvanized press gratings made of steel (S235JR (St 37-2)), as well as other materials, such as stainless steel gratings with quality standard AISI 304 (1.4301) or AISI 316L (1.4404). in case of urgent needs and if orders are done in the framework of our special MKL-SPEED-PROGRAM, we will deliver the press gratings within the exceptionally short delay of 48 hours.
Productielengte
Draagstaven: max. 3000mm
Vulstaven: max: 1500mm
Maximale roostermaat
Standaard max. 2m²
Speciale afmetingen verkrijgbaar na overleg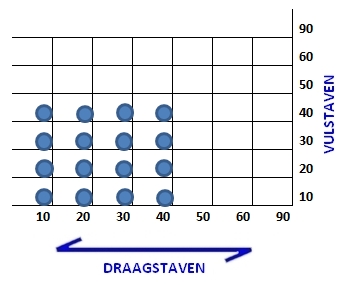 Antislip versie
When need slip resistance there are different versions. The anti-slip combination of bearing and cross-bars have an influence on the corresponding class (R10-R13).
| | |
| --- | --- |
| Type CSM2 | Serrated bearing- and cross-bars; |
| Type CSM2-1 | Serrated bearing bars; |
| Type CSM2-2 | Serrated cross-bars. |