For the production of MKL-Steps we use as our gratings quality steel strip. The production is made in the same method as the MKL-Gratings. The cross bars are pressed into pre-punched bearing bars. The result is a grid of support- and fillingbars. Subsequently, the perforated side panels and the safety nosing are be attached. This nosing ensures optimal surefootedness.
The MKL-Steps are available in standardized as well as in individual sizes. The mesh shown below are standard mesh. MKL provides you next galvanized or ungalvanized steps made of steel (S235JR (St 37-2)) also steps made of other materials. You will receive a competent and reliable technical advice. When it's time piece we deliver, on request your steps, in the shortest time with our MKL SPEED-PROGRAM. Apart from the steps, we also offer our MKL-STAIRS. These are manufactured and delivered according to your wishes and complete, ready for installation. All of our products comply with the standard EN 1090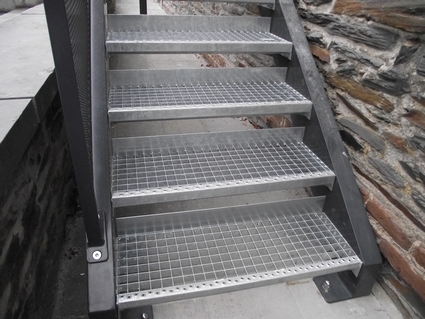 Steps
MKL provides you with galvanized or non-galvanized press gratings made of steel (S235JR (St 37-2)), as well as other materials, such as stainless steel gratings with quality standard AISI 304 (1.4301) or AISI 316L (1.4404). in case of urgent needs and if orders are done in the framework of our special MKL-SPEED-PROGRAM, we will deliver the press gratings within the exceptionally short delay of 48 hours.
Bearing-bars
25×2 – 30×2 – 35×2 – 40×2 – 45×2 – 50×2
25×3 – 30×3 – 35×3 – 40×3 – 45×3 – 50×3
30×4 – 35×4 – 40×4 – 45×4 – 50×4 – 60×4
30×5 – 35×5 – 40×5 – 45×5 – 50×5 – 60×5
70×5 – 80×5 – 90×5 – 100×5 – 120×5
Manufacturing length
custom sizes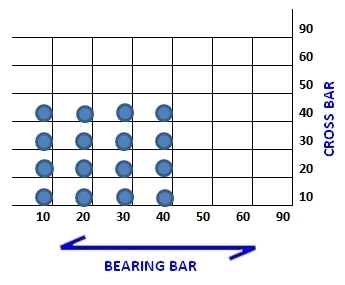 Antislip version
When need slip resistance there are different versions. The anti-slip combination of bearing and cross-bars have an influence on the corresponding class (R10-R13).
| | |
| --- | --- |
| Type CSM2 | Serrated bearing- and cross-bars; |
| Type CSM2-1 | Serrated bearing bars; |
| Type CSM2-2 | Serrated cross-bars. |