The MKL-shelf gratings are characterized by high stability and by their light, air and water permeability. They are ideal as an insert for your shelving systems.
For your planning and designs of racking systems we offer competent technical advice. We are a trusted manufacturer and supplier of gratings for racking systems with our experience.
The MKL-shelf gratings are made of steel strip in the following materials in accordance with DIN EN 10025:
S235JR (ST 37-2)
355JR (ST 52-3)
Various surface treatments of MKL-shelf-gratings are available:
Ungalvanised (black)
Galvanised EN ISO 1461 – DASt022
Powder coating in RAL colors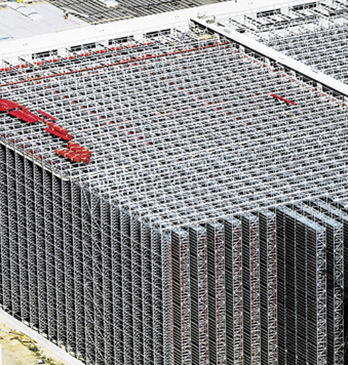 Shelves
MKL provides you with galvanized or non-galvanized press gratings made of steel (S235JR (St 37-2)), as well as other materials, such as stainless steel gratings with quality standard AISI 304 (1.4301) or AISI 316L (1.4404). in case of urgent needs and if orders are done in the framework of our special MKL-SPEED-PROGRAM, we will deliver the press gratings within the exceptionally short delay of 48 hours.
Bearing-bars
20×2 – 25×2 – 30×2 – 35×2
40×2 – 45×2 – 50×2
20×3 – 25×3 – 30×3 – 35×3
40×3 – 45×3 – 50×3
Special manufacturing measures: height 20mm only on request.
Manufacturing length
Bearingbar: max. 3000 mm
Crossbar: max. 2000 mm
Grating sizes
Standard maximal 2 m²
Special sizes in consultation
Antislip version
When need slip resistance there are different versions.
Important
The load capacity is determined by the shelf-depth, the clear span, the height and strength of the supporting rods. Therefore, the bearing bars are called in all our documents first.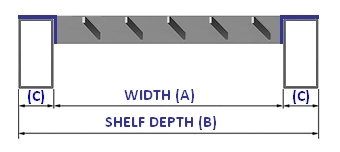 The following variants of MKL shelves for racking can be procured: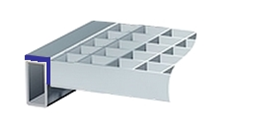 Shelves with an angle profile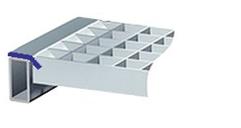 Shelves with an interlocking profile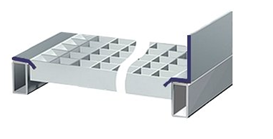 Shelves with banding types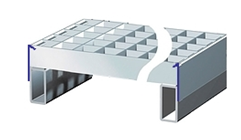 Shelves with locking mechanism